An awareness campaign on the fight against environmental crime
Ambitus is a project that is close to our hearts. We are proud to have worked with this client who fights daily for the planet. Ambitus is a European program to fight against environmental crime. It is financed by the European Commission and France is responsible for it, through one of its judicial police services: the OCLAESP, the Central Office for the Fight against Environmental and Public Health Violations. On a daily basis, more than 60 gendarmes and police officers coordinate European investigations to fight against waste trafficking, trafficking of protected species and illegal logging. Despite the scope of its action, Ambitus has remained a very discreet program until now. Its actors call on Agency 148 to conduct a communication campaign aimed at the general public in Europe. As a B Corp agency, concerned about the impact of its actions on the environment, Agency 148 shares 100% the values of this program.
We were discovering the world of communication. Agency 148 took the time to explain to us how a campaign works and what we could do with our budget, which was very appreciated.
David, Project Manager
More infos
More infos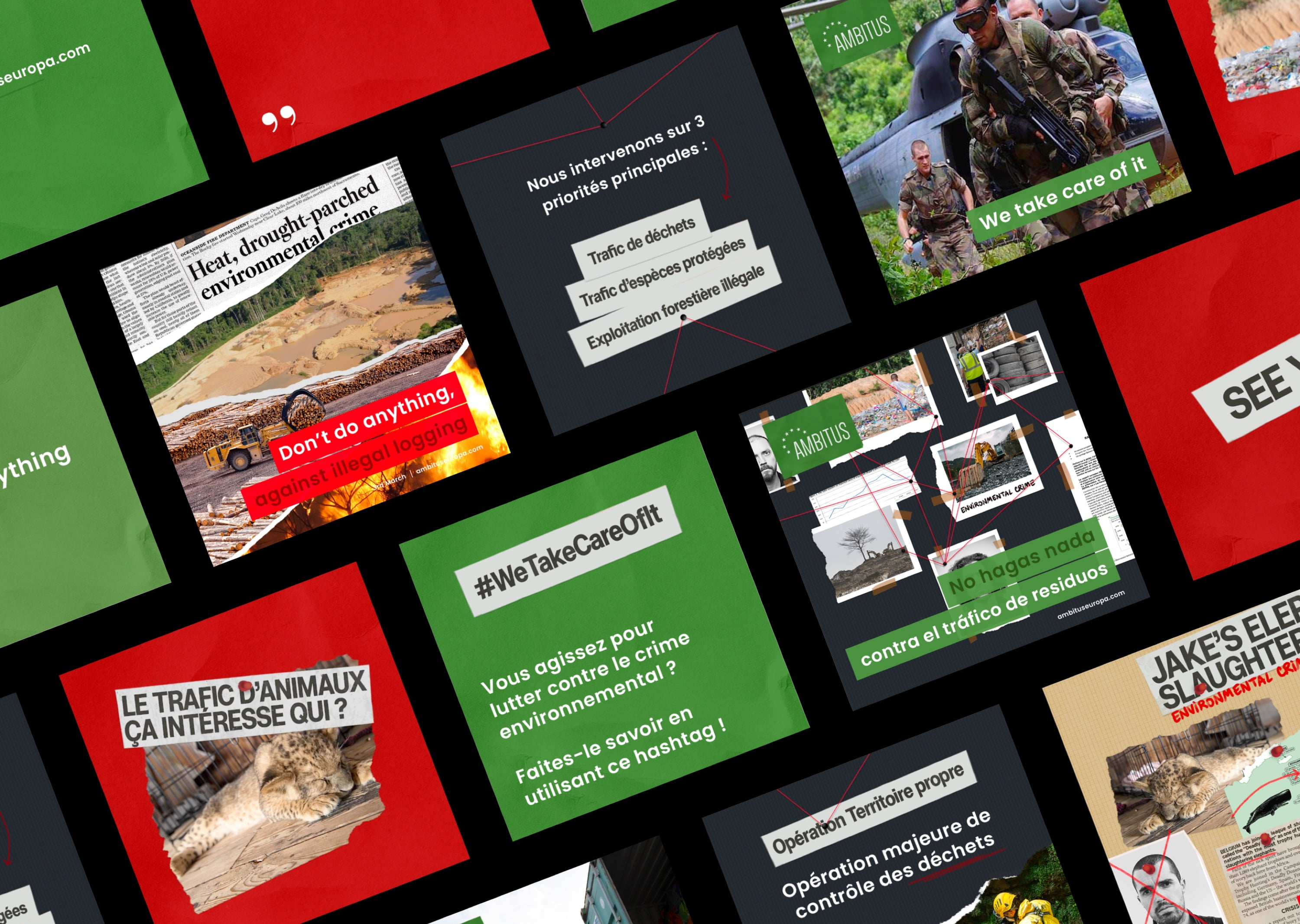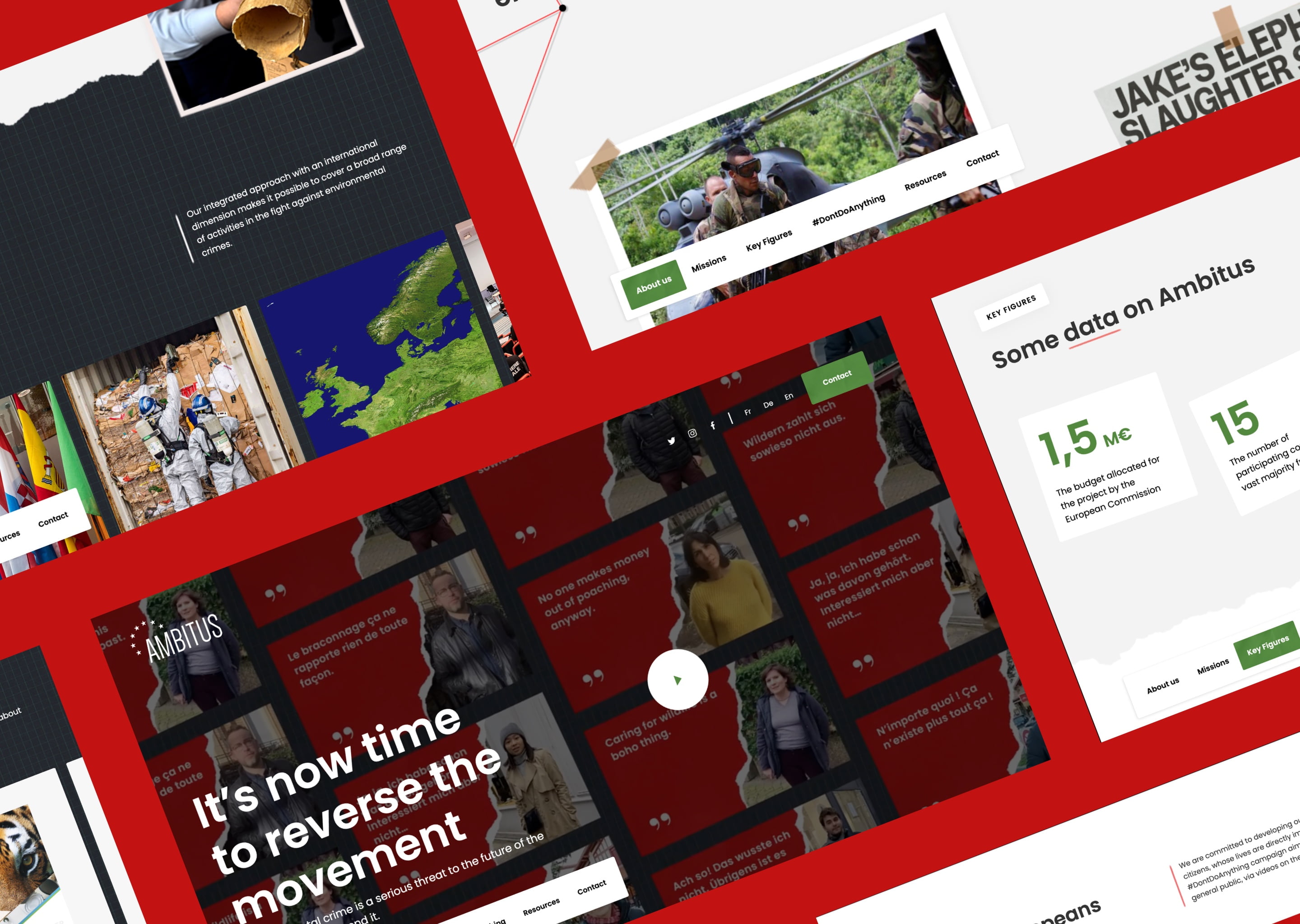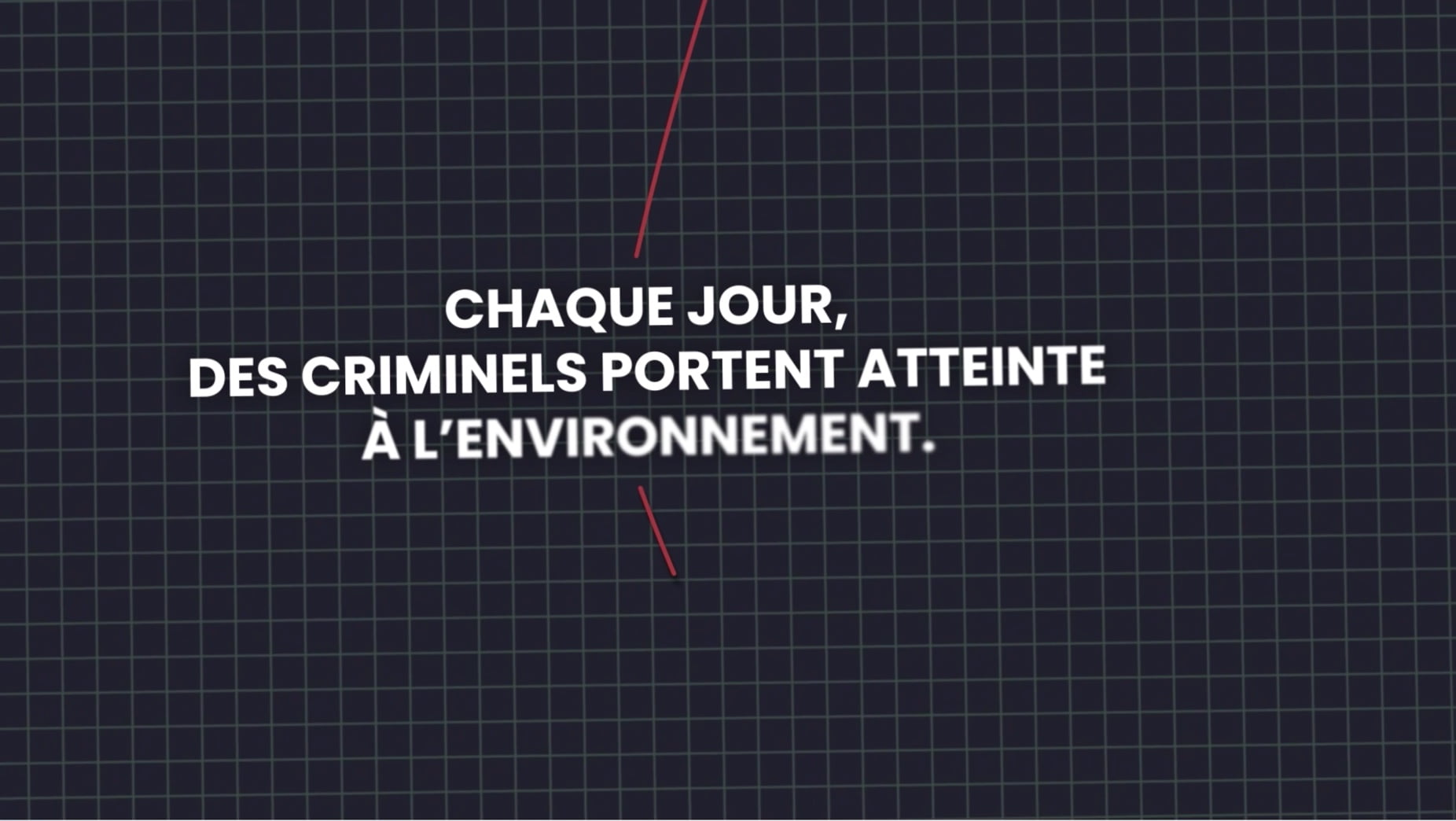 Start by defining a positioning strategy
Everything has to be built: the positioning, the brand image, the creative universe. And the client needs advice. So we start by conducting audits to deliver a positioning strategy: target, brand brief, manifesto. Based on this study, we believe that the key is to highlight the credibility of this criminal investigation unit and its investigative capacity. Then, our idea is to combine the creation of a web page (landing page) with an educational purpose (Who is Ambitus? What are its actions?) and a shock awareness campaign on social networks.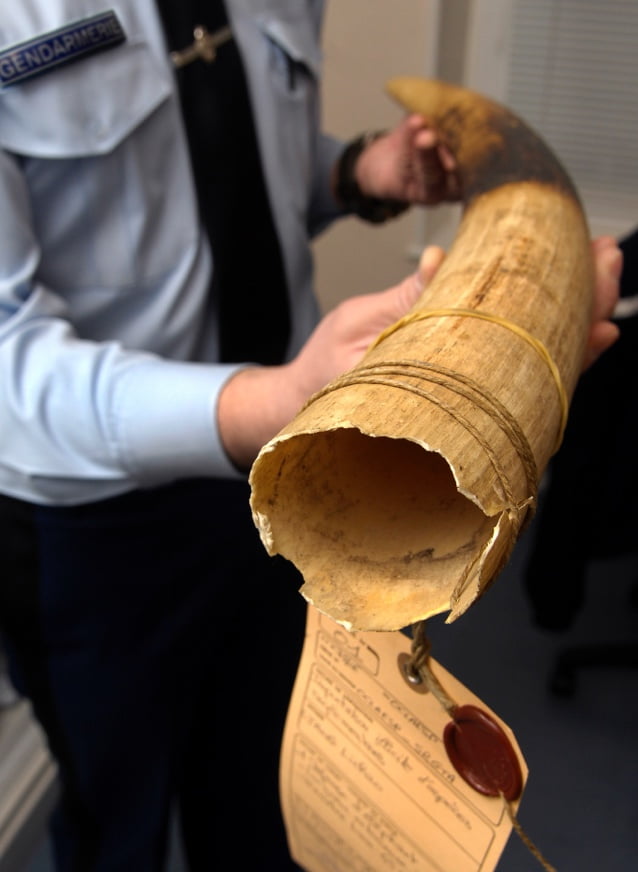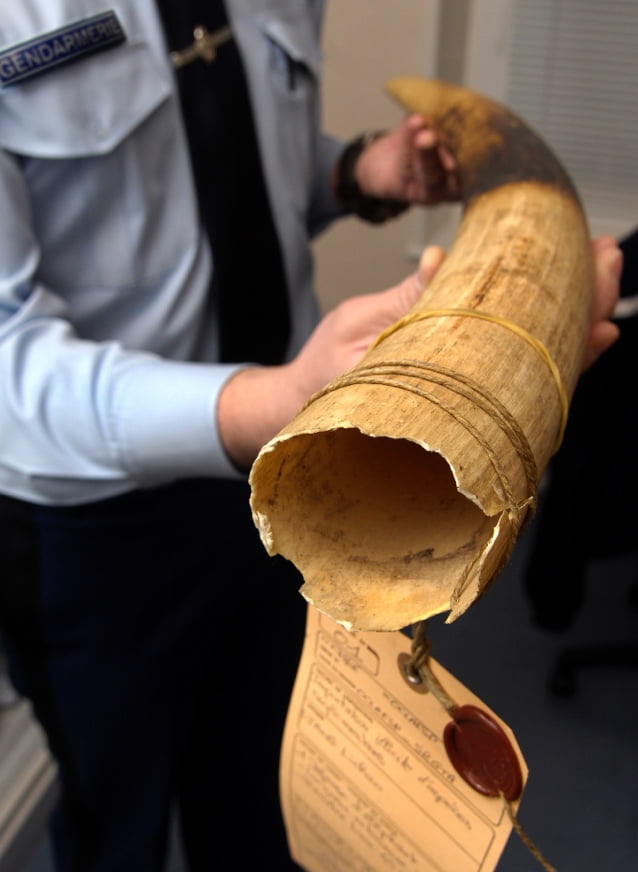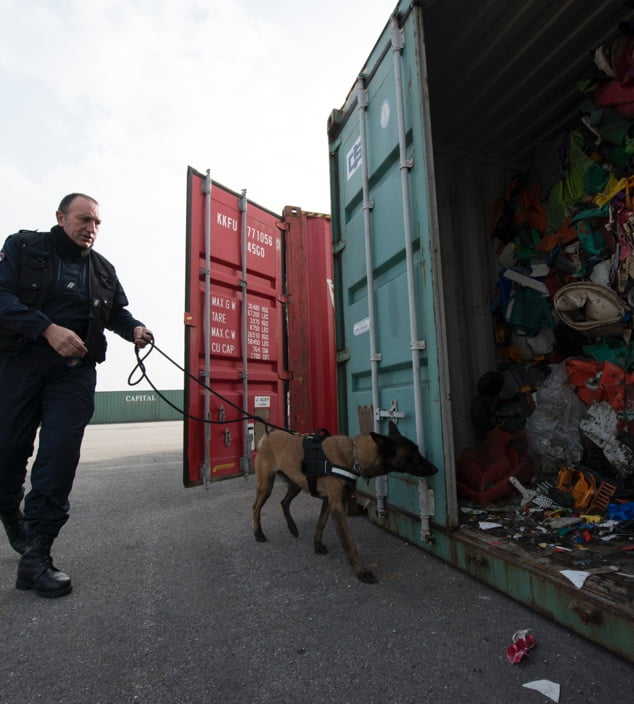 Use the world of police investigation to create an impactful graphic identity
For the identity of the landing page, the graphical approach is close to create a wall of investigations of criminal police. With its photos, its information circled with felt pen, its newspaper articles cut out and its red wool thread stretched between pins to link the clues together. The goal is to create an atmosphere of concrete work, handmade, with effects on materials so that each element, to the smallest piece of tape, plunges us into this collective imagination of criminal investigations. The second important element of this web page is a motion design video. 2 minutes of graphic animation and infographics to present the Ambitus program in an ultra general public way.
Graphically, thanks to this idea of the "detective board", we found the right balance between the multitude of information and visual efficiency,
Léo, art director at Agency 148
A social media campaign in three steps
For the social network campaign, we created Ambitus europa accounts on Instagram, Facebook and Twitter. And we decided to develop a shocking campaign that takes the opposite of the public awareness speeches of NGOs and environmental activists. This social media strategy is divided into three phases. The first one is a teasing phase. To attract attention and make the network communities react, fake micro-trots are made that seem to justify the massacre of animals or the destruction of forests. The second phase, called "revealing", reveals who Ambitus is. Finally, during the third phase of "on-going", key figures and results of concrete actions implemented by Ambitus are given. Once this campaign is launched, OCLAESP benefits from an enlarged audience to communicate autonomously on its actions and to continue to raise awareness on an issue that will not be solved in a few weeks. All the templates of the posts created for the social networks are made available to the client. This way, he keeps a communication tool on the long term, with the same visual identity which is also easy to use.
Our social media campaign worked really well, in two months we increased our number of followers on Facebook by 10 times.
Annouchka, Ambitus communication officer
Optimize Ambitus referencing
In order to create a complete communication campaign, we carry out press relations work in France and Germany via our partner We Agency. Another essential step, influencers participate in the campaign by relaying certain posts. Finally, we set up a SEA (Search Engine Advertising) strategy which allows, through the purchase of keywords, to bring up in Google the results concerning Ambitus. This efficient process allows to optimize the referencing of the OCLAESP and to give it a place of reference in the fight against environmental crime. We also buy sponsored posts that automatically appear in the feed of social networks and link to the Ambitus website.
It's a global project, with strategic thinking on positioning, the creation of a visual identity and the activation of a campaign on social networks
Naïma, project manager at Agence 148
Have an idea ? Want to talk about it ?
It's even better !
Contact us